About Toshima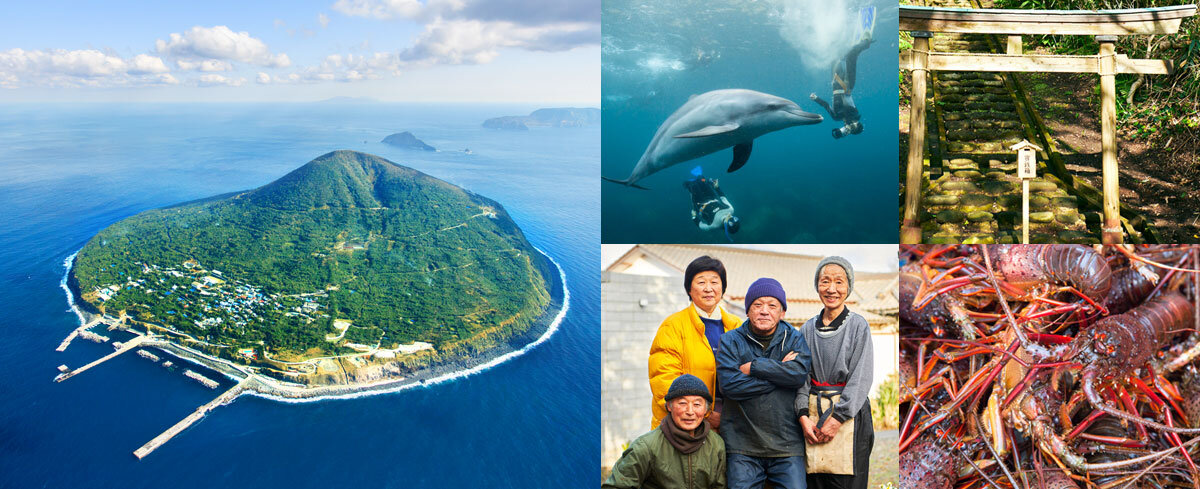 Toshima is an island of Tokyo Metropolitan which lies 140 km south of Takeshiba, in between Izu islands of Oshima and Niijima, with a circumference of just 8 km and the total size of only 4.12㎢. The population has always been around 300. Although it has been an inhabited island for more than 3000 years, rice farming was never done on this island because, unlike many other areas in Japan, there are no rivers on Toshima.
How Toshima became the island of "Camellia Japonica"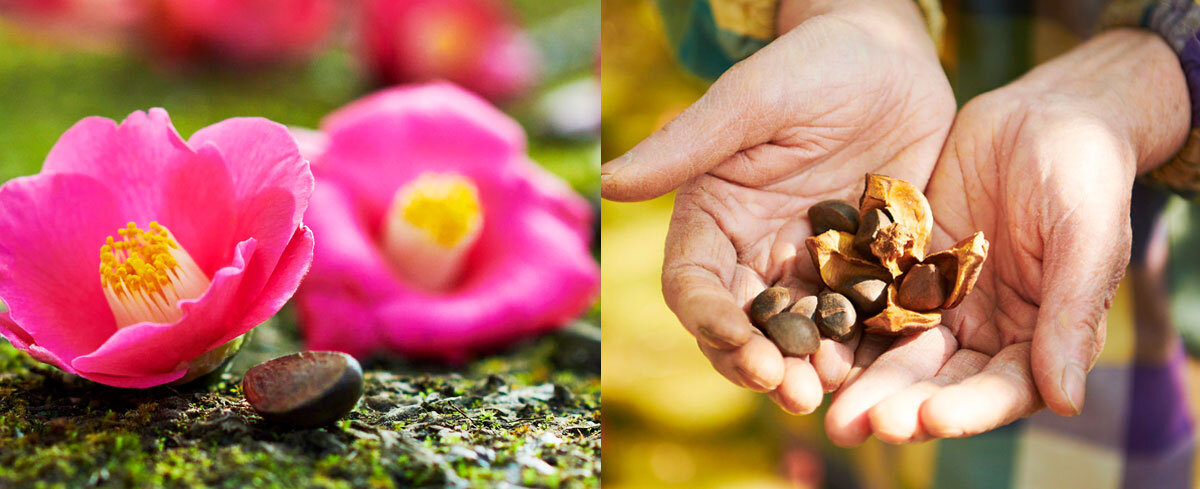 Camellia Japonica was first planted to protect the island from strong wind. Our ancestors eventually found that its seed oils are good in quality, and made it into the island's main industry. Now, 80% of the land is covered with 200,000 Camellia Japonica trees. The flowers of the trees bloom at once in winter, and the island is colored in red all around. Having no rivers on the island makes its soils unsuitable for rice and vegetable farming, but the nature of the soil was perfect for Camellia Japonica plantation. The islanders used the oil to pay tribute tax in Edo era, and the industry grew bigger in Meiji era. Mechanization enormously helped the industry to grow even bigger after the world war. Now, Toshima boasts the highest production volume of Camellia Japonica in Japan.
Traceable quality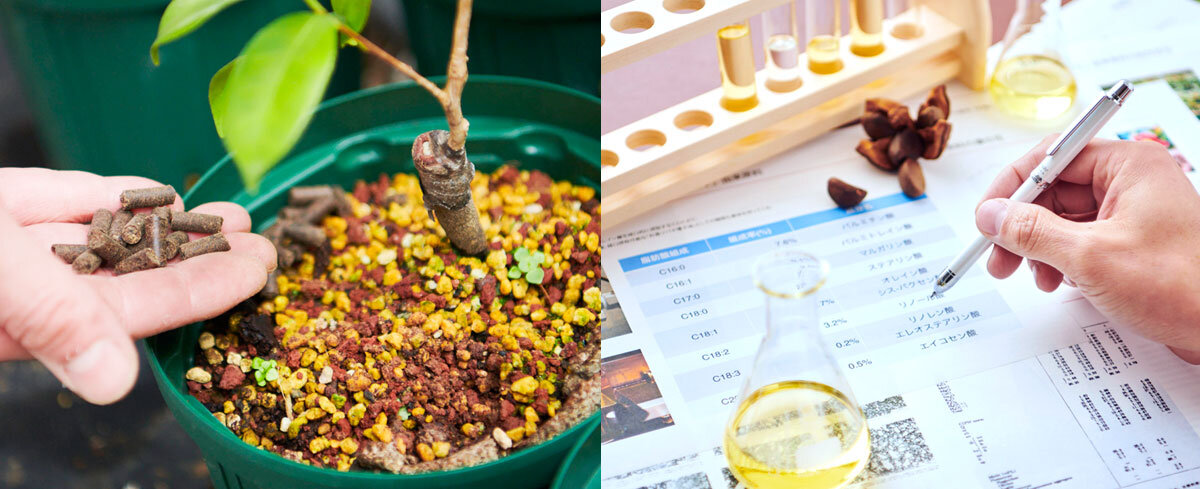 Since all of Camellia Japonica trees in Toshima are planted by landlords, their management is relatively easy. To ensure that all seed oils are organic, JA supports the producers with management of production records. Currently, 1/10 of all fields can be fully traced.
86% or more of Camellia Japonica seed consists of Oleic acid which helps regenerate skin, and with the help of Toshima's soil, sunshine and winds, the trees of Toshima are blessed with high quality seeds.
Production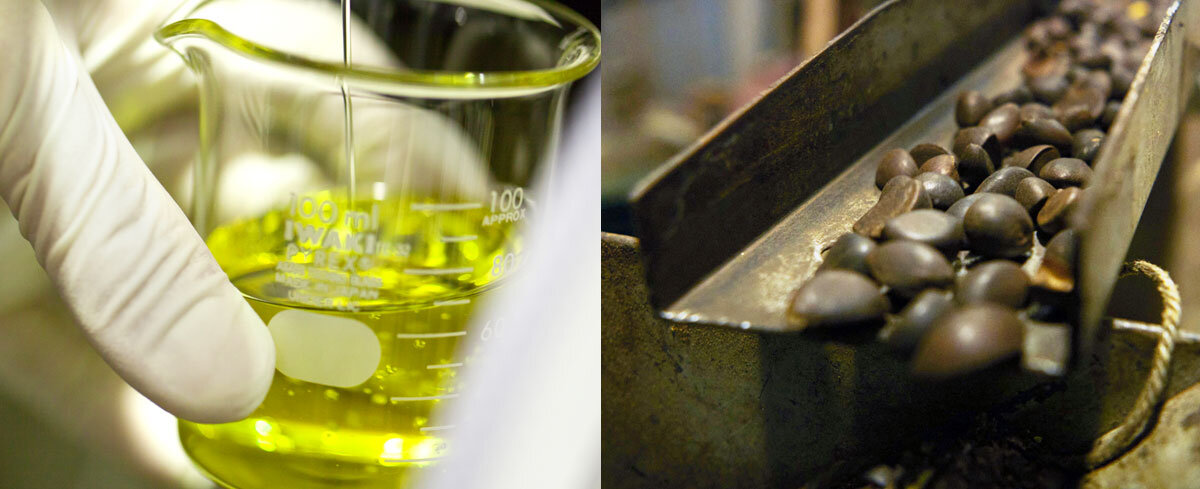 Toshima has one of the largest oil refinary plant of Camellia Japonica seed oil, and seeds collected from the trees grown in Toshima are brought here. After fully cleaning each and every one of the seeds, the oils are extracted by each field.
Some of the fields have acquired COSMOS ORGANIC certification, and a seed oil product of such fields will be available to the public for the first time in 2020. Toshima is the only place that has acquired COSMOS ORGANIC certification with Camellia Japnonica.
About "Kamiyotsubaki"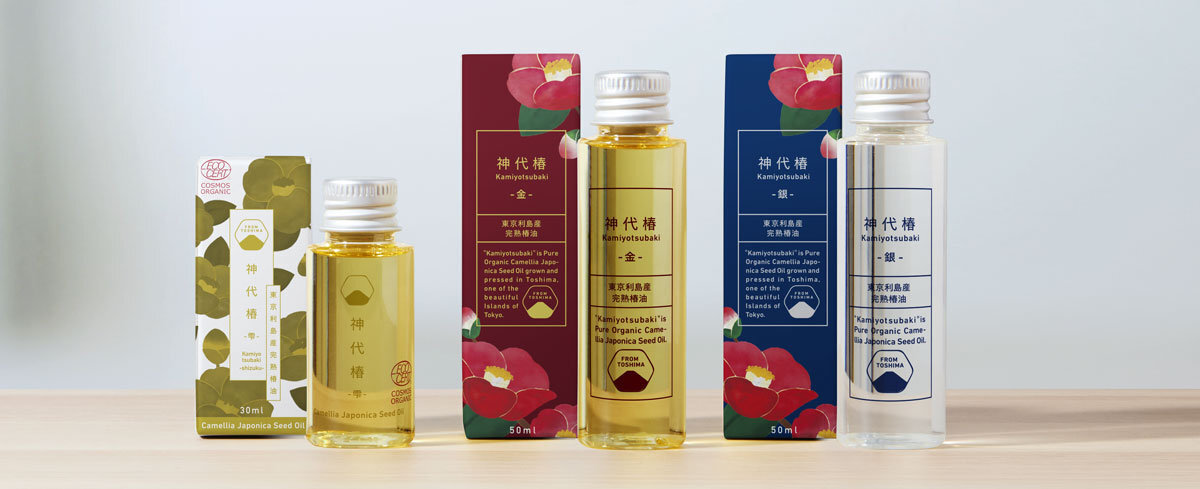 "Kamiyotsubaki" is a product of 100% plant-derived organic oil with oils extracted only from ripe seeds of Toshima Camellia Japonica trees that have been grown on the island since Edo era. With 86% of the oil being Oleic acid, the skin absorbs the oil well and is good for the faces and bodies of users in all age groups.
Kamiyotsubaki GOLD is a product of Camellia Japonica seed oil that has been deoxidized right after extraction to preserve the fragrance and color. It is thick in texture but fitting to skin.
Kamiyotsubaki SILVER is a product of Camellia Japonica seed oil that has been deoxidized and deodorized. It is light in texture and suitable for everyone.
Kamiyotsubaki "SHIZUKU" is a product of Camellia Japonica seed oil which is made solely of oils extracted from camellias that are grown organically in environmentally friendly camellia field. SHIZUKU has received organic JAS certification, and also COSMOS ORGANIC certification, which is a globally known certificate for organic cosmetics.
In 2019, Toshima received Japan's first COSMOS certification for the raw material of Camellia Japonica seed oil.
COSMOS(= Cosmetic Organic Standard) is a universal standard for organic cosmetics. There are two recognitions, "COSMOS ORGANIC" and "COSMOS NATURAL", under this standard, and Toshima's Camellia Japonica seed oil is certified as COSMOS ORGANIC, the more stringent of the two.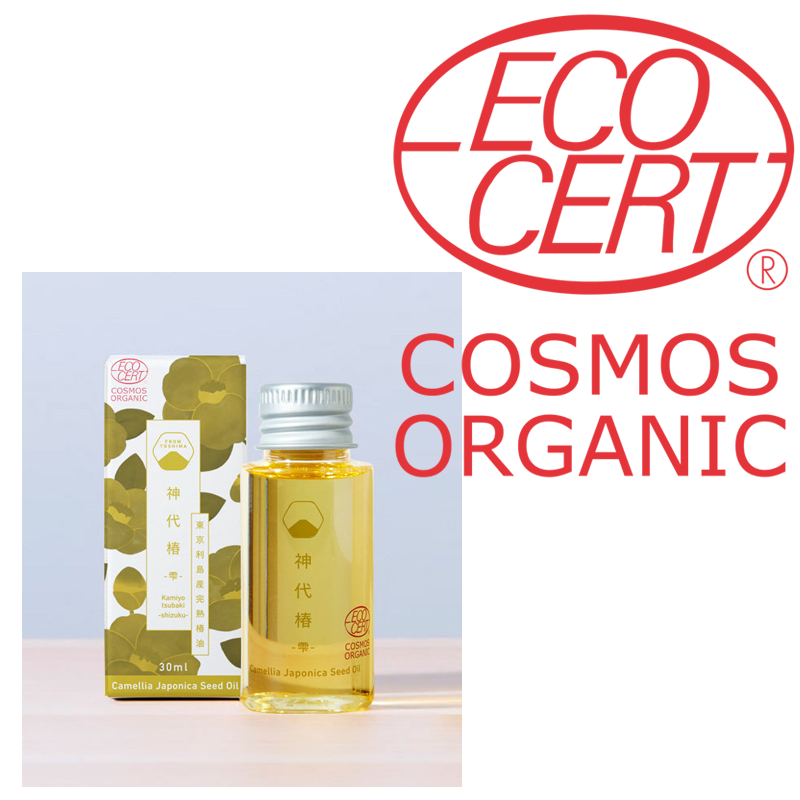 Requirements to be certified COSMOS ORGANIC
At least 95% of the physically processed agro-ingredients must be organic.
At least 95% of the plant materials (e.g., oils, extracts, butter) must be produced by organic and non-genetically modified farming methods.
At least 20% of the finished product must be made from ingredients produced by organic farming methods. (Products that are rinsed off, such as shampoos and conditioners, have an exception and require only 10%)
Ingredients other than those strictly regulated by European standards cannot be used. In addition, the use of any non-plant derived ingredients must be lower than 5%.
All ingredients and raw materials used in the product must be biodegradable with no adverse impact on the environment
How to use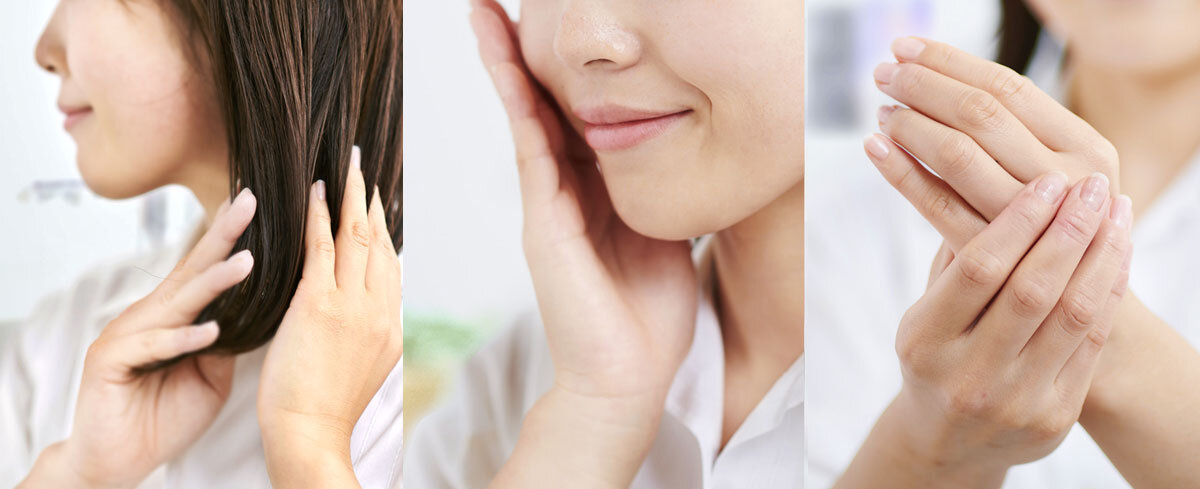 Pure Camellia Japaonica seed oil is rich in oleic acid and is fitting to skin and hair because its nature is similar to that of the skin.
Usage on hair: It can be used as hair treatment, pre-shampoo scalp massage oil, and for styling. It prevents dandruff, and gives hair shine and firmness.
Usage on face: It can be used as cleansing oil, massage oil, or even as moisturizer after face wash. It can be used throughout the year by adjusting the amount of oil according to the season.
Usage on body: It protects the skin from drying and UV rays. It can be used as a moisturizer especially on crumpled knees, heels, elbows, or on any dried parts. It is also good for pregnancy stretches.