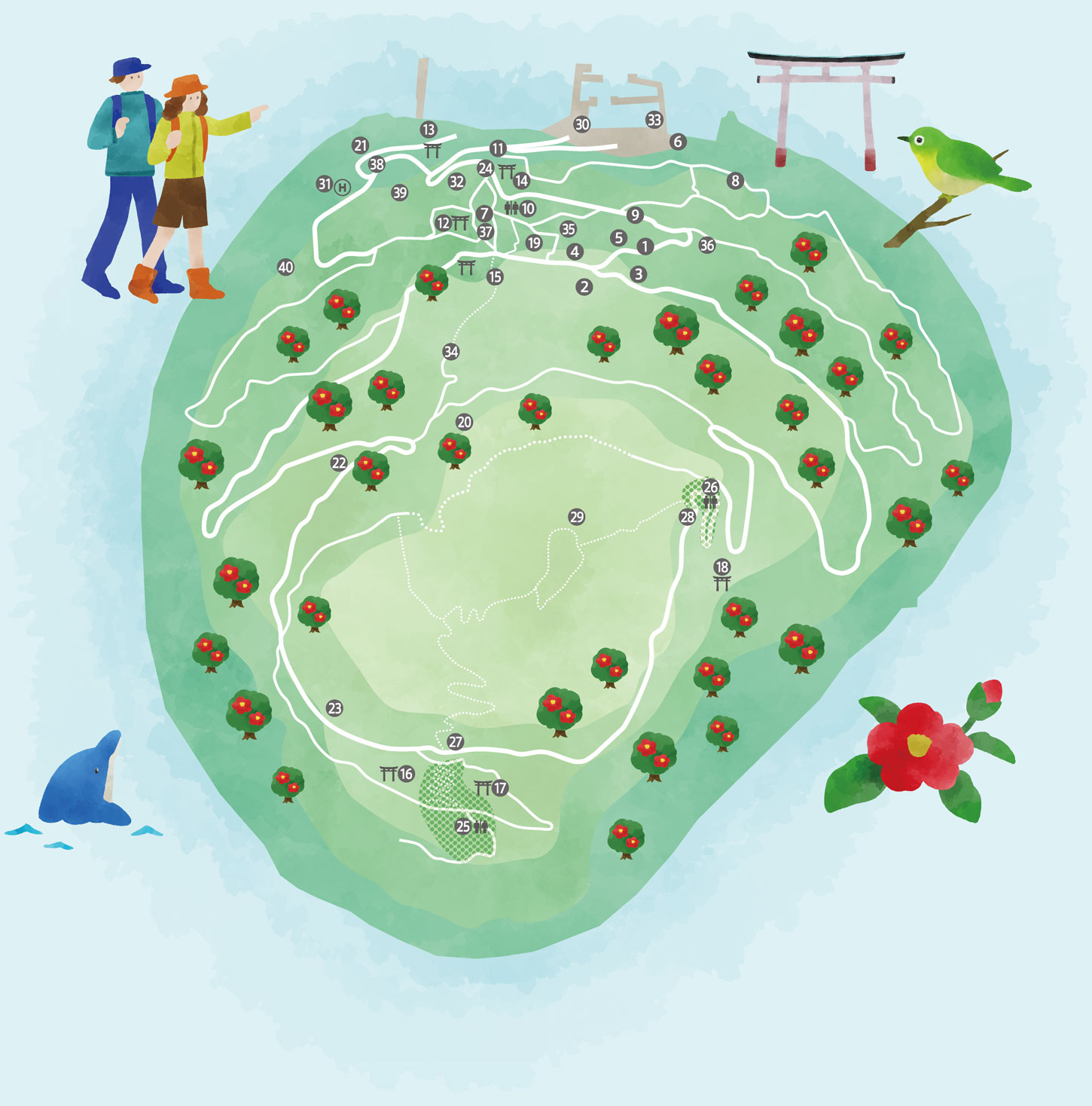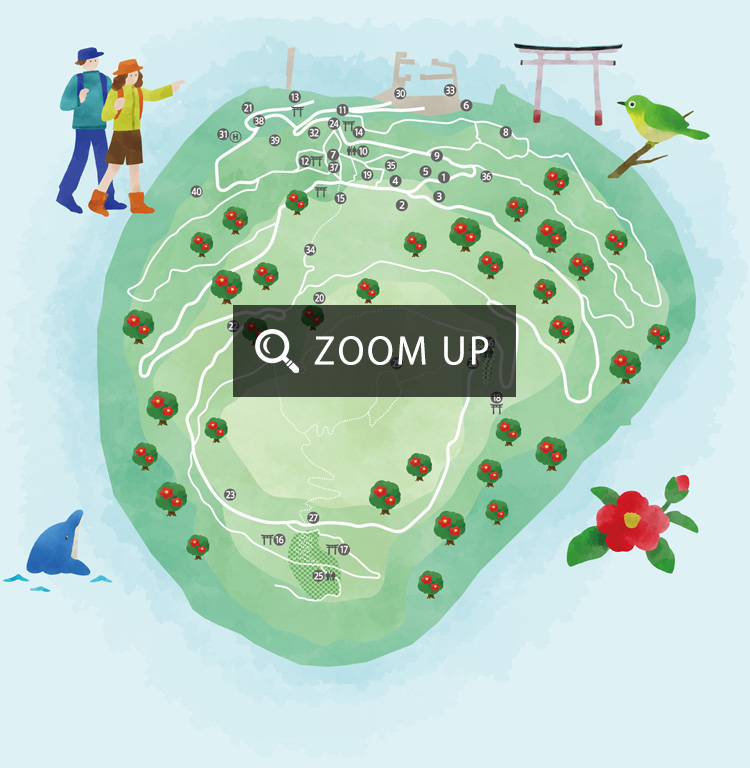 Tokyo Stroll Island TOSHIMA Introduction (Japanese version only)
Toshima Village Historic Museum
Introduces the history of Toshima from different perspectives. You can also see a diorama model display of Toshima.
Labor and Welfare Center
A community lounge for the islanders. You can enjoy bowling here.
Community Center
A public space for the island gatherings. It is also used for weddings and funerals.
Toshima Elementary School
/Junior High School
Routinely used as the practice field for sports-related activities for adults after school hours.
Toshima Village Hall
Toshima Village was established during the Taisho era, but people started living on this island in the Jomon period.
Toshima Fishery Cooperative
Horned turban shells and Japanese spiny lobsters are the main catches of the island.
Toshima Agricultural Cooperative
A shop where most of daily supplies are being sold. Camilla japonica seed oil "Kamiyotsubaki" of Toshima can be found here.
Camellia Japonica Oil Refinery Plant
All seeds collected from Toshima camellia japonica trees are carefully selected and extracted here, to make camellia japonica seed oil.
Moriyama Souvenir Shop
The only souvenir shop on the island. A good place to stop by for an ice cream or a coffee during the stroll.
Nakayoshi Play Park
A playground with swings and a slide for children. A public toilet is also available here.
History Park of Hashike Boat and Ocean
Exhibits a boat known as "Hashike" that was used before the port was constructed. You can view Oshima and Mt. Fuji from here.
Azusawakenomikoto Shrine
The largest shrine on the island which pays homage to the god Azusawakenomikoto. (A national tangible cultural property)
Hamanomiya Shrine
A shrine to pray for the safety of family members leaving the island and sea voyages.
Hachiman Shrine
The only shrine among the shrines of the Izu islands that hosted Yabusame archery ritual at one time.
Donoyama Shrine
A shrine that pays homage to a god who was enshrined in a private residence in Toshima at an early period during the Meiji era.
Azusawakenomikoto Hongu Shrine*
The "goshintai" (object of worship believed to contain the spirit of god)of this shrine is believed to be Mt. Miyatsuka itself.
Oyama-koyama Shrine**
Known as the mountain and sea god, Oyamatsumi, is worshipped here.
Orinobori Shrine***
A place that worships the princess of Azusawakenomikoto, Orinobori. Islanders visit this shrine when they finish the mountain trail.
Chokyu Temple
The one and only temple of Nichiren sect temple on the island constructed in 1504.
Kamiyotsubaki
The earliest known camellia japonica tree on the island. The tree itself has already decayed and only a small root remains.
Mt. Fuji Observation Platform
Located in front of the recycling center on the way to the heliport.
Hitoyasumi Observation Platform
Offers a panoramic view with many benches.
Sunset Observation Platform
A great spot for a photo opportunity on the west side of the island where you can view a remarkable sunset.
Port Observation Platform
Located along the road that goes around the island, up the path from History Park of Hashike Boat and Ocean.
Minamigayama Picnic Site
A viewpoint with a vista selected as one of New 100 Landscapes of Tokyo. A public toilet area is available here.
Usuigo Picnic Site
A viewing area with an observatory platform. A public toilet is available here. This facility's construction was inspired by a "belief for the ancient deity."
Mt. Miyatsuka South Trail Entrance
Starting point of an easy winding mountain trail. Elementary school children challenge the summit from this entrance every year.
Mt. Miyatsuka East Trail Entrance
Starting point of the steepest trail up Mt. Miyatsuka among a few. Located near Orinobori Shrine where people visit to show gratitude for the trail.
Lookout at the Summit of Mt. Miyatsuka
The island of Toshima itself is a mountain called Mt. Miyatsuka with its summit being the highest point of the island.
Port Waiting Room
Known as "senmachi" by the islanders, this place is an important location for receiving supplies and welcoming travelers from Takeshiba (Tokyo) and Shimoda (Shizuoka).
Heliport
Tokyo Ai-land Shuttle connects Toshima and Oshima with one round trip a day.
Lighthouse
An unmanned lighthouse located on a hill behind Toshima port. You will see a ladder reaching the road that goes around the island.
Toshima Port
All boats, including those used for fishing and for swimming with dolphins, utilize this port.
Water Purification Plant
Since there are no rivers or water springs in Toshima, domestic water is supplied by filtering rainwater and purifying seawater.
Medical Clinic
The only clinic on the island.
Police Substation
The only police substation on the island.
Post Office
The only post office on the island. ATM access can only be found here.
Recycling Center
Recycles materials such as metal products and cars.
Oishi-yama Ruins
Ruins from the early Jomon era to the Kofun period. This ruins is designated as an important historical property of Tokyo.
Kekkei Ruins
Pit dwellings from the middle of the Yayoi period, and pottery, ironware, obsidian, from the Jomon period have been discovered here. Also designated as an important historical property of Tokyo.